The LILIAN Water Analysis System – The Revolution for the best Water Quality
Our LILIAN measuring device has only one button. In addition, an app that takes you by the hand, guides you through the measurement process and then documents everything automatically and digitally. Without frills or complicated processes, quickly and with the highest precision – with the certainty of having done everything right.
With the LILIAN water analysis system, time-consuming analysis procedures are a thing of the past: No more annoying sample preparation and post-processing, no more mixing of hazardous chemicals, no more errors in manual documentation. The time required for your work processes is reduced by 90%. This gives you and your employees more time to focus on what is really important.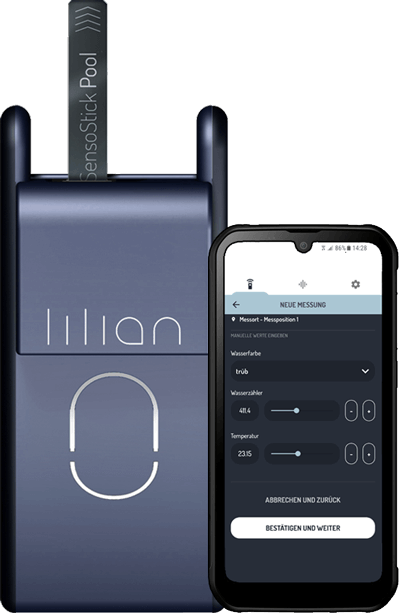 New Standard in Water Analysis for Public Swimming Pools and Hotels
Simple. Accurate. Fast. The LILIAN system sets new standards in water analysis. With state-of-the-art measurement technology, it is a must for every public swimming pool, hotel pool and privately operated pool.
Have we aroused your interest? Then you can request a quote or take part in a test phase now.
News from Lilian Labs
Acid capacity at Lilian Labs Our sales team has taken out the XXL acid capacity SensoStick [...]
Autumn seminar Dr.Nüsken & LFT BDS in Saxony Last week, our sales manager Simon was at [...]
AquaTec in-house exhibition One week of the AquaTec in-house exhibition is over. Over the past [...]